Can DeFi and on-chain governance change human nature? Oct. 7-14
This week, one bit of news really grabbed my attention: Dharma getting criticized for allegedly trying to capture Uniswap governance.
Dharma is the company behind a crypto payments and exchange app, a sort of Ethereum-based cousin of Square's Cash App. Or at least that's what I previously used to describe it — if you visit the website now you basically only see mentions of DeFi and some very trippy images.
The Dharma website design is now very… daring. And inspired by Uniswap in some ways.
Like Uniswap and Compound, Dharma is backed by some traditional Silicon Valley venture capitalists and Coinbase. It's also one of the most vocal "community governance" members of both protocols — shocking, I know.
But I don't mean to single out Dharma here. They have legitimate interests in the matter given their tight product integrations with DeFi, and on Uniswap they're trying to do right by their users who missed out on the airdrop.
If you take a stroll through the Compound or Uniswap governance dashboards, you'll probably see the general issues I see with these types of "decentralized community governance" protocols.
Most proposals are submitted by a small clique of stakeholders, usually the team or some highly-related company (another name that often pops up is Gauntlet, which is funded by Paradigm, Polychain… and obviously Coinbase). It doesn't help that making a proposal on Compound requires a fully formed technical implementation and 100,000 COMP (worth $10 million or so).
Sure, you may discuss things on the forums as a small holder. But I have serious doubts that those public forums are where the real decision-making occurs. To be fair, the Compound and Uniswap forums could not be more different. The former is a place devoid of life or fun, the latter rages with discussion and accusations.
The rich get richer
Somehow, I feel that the token distribution schemes had a very, very strong effect on that disparity. Uniswap's "reward anyone who randomly used us in the past" was definitely much more equitable than Compound's "let's distribute tokens with no lockup to whoever manages to pull in the most capital." 
In general, there's nothing really fair about yield farming launches — the richer you are the more tokens you receive and the richer you get.
Most of all, this is not inventing anything new. It's a corporate board, plain and simple. Corporate boards benefit the team and the already-rich who can devote capital to the venture, it's just that with DeFi you get tokens instead of shares. 
Honestly, crypto has always been oligarchical. And that's fine, that's human nature. But if we really want to make something different, we have to realize that our actions are taking us down the same path that formed the modern world.
Maybe it's possible to have a truly decentralized governance system — whatever that means — but it certainly won't happen when we actively reward wealth with control. (And control with more wealth.)
The blame games are getting out of hand
A story that made me chuckle is the sincere belief shared by some that YFI fell because Alameda Research (the company behind the FTX exchange) shorted it.
The blockchain doesn't lie, and CEO Sam Bankman-Fried didn't exactly deny it, so maybe it's true.
Of course the logical reason for a bull to get irritated about shorting is that by doing so, bears create extra selling pressure. And that's probably true, but one also has to remember that they provide extra buying pressure on the way down. It's quite well established that futures — which make shorting very easy — dampen the overall volatility of the market.
Emotions are running high, and anger is usually associated with the bottom of a market cycle, so maybe this news is actually good?
But there's another blame game that makes very little sense and suggests people are still crazy. Andre Cronje, the founder of Yearn Finance, is once again being attacked because people "aped in" to one of his unreleased projects.
It was basically an impermanent loss mitigation proof-of-concept for other developers to try. People put huge sums of money and then lost it — one particular address put in 1,000 ETH and got back 74 ETH.
But despite Cronje's giant, stark warnings (see below) people were still bashing this as yet another example of him "testing in prod" and making people lose money.
Except that, well, nothing actually happened. The system worked fully as intended, nobody got hacked. This is just what usually happens when you pile into some random smart contract.
So, errr, maybe read the sign. Then there's nobody to blame and we can all enjoy DeFi again.
Chainlink brings Verifiable Randomness to Ethereum mainnet, keeps other chains in sight
Chainlink's verifiable randomness function, or VRF, has made its way to the Ethereum (ETH) main net. VRF will provide a decentralized source of randomness for the project's decentralized ecosystem. 
A trusted source of randomness is essential for many applications, such as those in the gambling and gaming industries. Chainlink's co-founder Sergey Nazarov told Cointelegraph that many blockchains  beyond Ethereum, such as the gaming-focused Matic Network, are interested in deploying the project's VRF:
"I know that we have anywhere between 10 and 20 users announced as already using it from the time it was in testnet only. And I know a number of people have already used it for one or two things on mainnet. And I also know that a number of the chains that we're integrating into, interestingly enough, whether they're gaming-focused or not, already have people lined up to use it when we've finalized our integration to that chain."
As with the function's testnet deployment, the first use-case of VRF on the Ethereum mainnet is a gamified application that incentivizes users to save money called PoolTogether. Its co-founder, Leighton Cusack, shared his thoughts on the importance of having a trusted source of randomness:
"The V3 PoolTogether Protocol creates a true "money lego" for no loss prize games. An essential component of this is generating randomness. Using Chainlink VRF lets us move away from a less secure and centralized system to a decentralized one."
VRF is a computationally intensive application which is more costly in terms of Ethereum fees than regular Chainlink oracles. According to Nazarov, the team has been working on VRF for a couple of years. He noted that a lot has changed in the Ethereum landscape during that interim:
"But then the gas price dynamics were very different and there were a lot more games on Ethereum. So interestingly enough, I think what's going to happen with Chainlink VRF, it's now going to successfully launch with a number of users on Ethereum mainnet. But those are the users that are still on Ethereum for gaming. And many users for gaming have now started to move to other more gaming-specific, which is then also where we'll have Chainlink VRF soon as well."
Integration with other EVM-compatible blockchains is relatively straightforward for Chainlink's VRF, said Nazarov. He believes that, though the initial adoption of this technology will come from the blockchain space, sooner or later it will bridge into other industries. At the moment, many of these already employ their own reliable methods of generating randomness, and are not especially eager to go through the hurdles of adopting a decentralized alternative. Nazarov supposed that a major scandal could change all of this:
"Once in a while in the gaming industry, you see these kind of flashes of concern from users, you see some gaming sites somewhere frontrunning users from inside the gaming site, or you see a scandal with some gambling thing that's regulated but some employee still was playing the game and they still were able to win against other players. And I think whenever those happen, those bigger firms do start to seek additional solutions."
On-Chain Ethereum Trends Favor Bulls Despite 5% Drop From Local Highs
Santiment, a blockchain analytics firm, recently shared that Ethereum's NVT is still "bullish"
The NVT is the network value to transaction ratio, which is seen as a price-to-earnings ratio for blockchain networks.
Data also shows that investors are accumulating ETH en-masse, with coins leaving exchanges at a rapid clip.
Ethereum On-Chain Trends Still Favoring Bulls
Ethereum has undergone a strong drop from its weekly highs around $385. The coin fell under $370 on Tuesday morning as capital flooded from the altcoin market back towards Bitcoin, which has underperformed altcoins over the past six months.
Despite the local, short-term drop, analysts remain bullish on ETH.
One key reason why this is the case is that Ethereum's on-chain trends are still bullish.
Santiment, a blockchain analytics firm, recently shared the chart seen below. it shows ETH's price action relative to the network value to transactions metric, which is seen as a price-to-earnings ratio for blockchain networks.
On the current state of the ratio, Santiment wrote that Ethereum is still "bullish" but the trend is moving into "neutral territory."
Chart of ETH's price action over the past few years with an overlay of the NVT model.
Chart from Santiment, a blockchain analytics firm.
This post comes shortly after the firm noted that a spirit of accumulation has appeared amongst Ethereum holders and investors. Santiment recently reported that the number of ETH held on exchanges has dropped rather dramatically in the past two months, suggesting accumulation:
"$ETH's top 10 whale exchange addresses have continued swapping their funds to non-exchange wallets, & moving holdings at an impressive rate. The 20.5% decrease in tokens on exchanges the past 2 months indicates price confidence by top #Ethereum holders."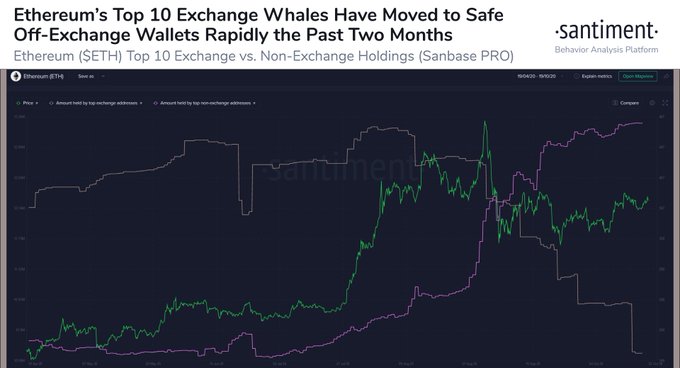 Chart of ETH's price action over the past few months with an overlay of the number of top 10 exchange holdings vs. non-exchange holdings.
Chart from Santiment, a blockchain analytics firm.
Not Everyone Is Convinced of Altcoins
Not all investors and analysts in the space are convinced of altcoins such as Ethereum in the current phase of the Bitcoin market cycle, though.
Kyle Davies, a co-founder of crypto fund Three Arrows Capital, recently suggested that Bitcoin is likely to dramatically outpace altcoins. This came shortly after his business partner Su Zhu made a similar comment, suggesting that this is a time for BTC to rally while altcoins sink.
"You're about to find out why all of the rich OG's hold mostly $BTC."
You're about to find out why all of the rich OG's hold mostly $BTC

— Kyle Davies (@kyled116) October 19, 2020
Just today, BTC rallied 2% as Ethereum sunk 2%.
Featured Image from Shutterstock
Price tags: ethusd, ethbtc
Charts from TradingView.com
On-Chain Ethereum Trends Favor Bulls Despite 5% Drop From Local Highs
Ethereum 2.0 deposit contract to launch this week: ConsenSys dev
ConsenSys developer Ben Edgington has published an update that predicts the ETH 2.0 beacon chain genesis will happen within the next six to eight weeks.
In a post announcing the launch of 'V1.0.0 release candidate 0', Edgington revealed the protocol's deposit contract address feature should be announced this week. The deposit contract allows ETH to be sent between Ethereum and ETH 2.0, and is one of the few remaining updates needed to facilitate the roll-out of ETH 2.0 phase 0:
"As I understand it, we are good to go: deposit contract in the next few days; beacon chain genesis 6-8 weeks later."
However, the PegaSys engineering group developer emphasized his prediction "is not an official statement."
To complete phase 0's launch, 500,000 Ether will need to be locked for staking after the beacon chain goes live, followed by a week-long genesis delay to give the network time to prepare.
According to Edgington, the new release also strengthens Ethereum against denial-of-service attacks, implements the genesis delay and a temporary quadrupling of penalty fees.
Penalties were increased in response to the "slightly bumpy" genesis "dress rehearsal" on the Spadina test network at the end of September, and what is now "very low participation" on the Medalla testnet.
The developer described the fee hike as "a temporary measure to give stakers more confidence in case we hit trouble." Despite low testnet participation, Edgington firmly believes the network is ready to transition into phase 0:
"I think people are getting a bit bored of testnests. It's time to move on […] we need to launch Phase 0 asap."
Edgington's post comes after a successful trial on the Zinken testnet last week, which Set Protocol's Anthony Sassano described as the "second last dress rehearsal testnet before we finally set an ETH 2 phase 0 mainnet launch date."