Ethereum miners made 450K ETH from high network fees during DeFi peak
Ether (ETH) miner revenue skyrocketed during the month of September according to data from glassnode, an onchain analytics resource. While the price of Ether did not rise significantly during this time, miners on the Ethereum network saw their revenue increase due to high fees. 
Miners took home 450,089 ETH in fees ($168.7 million) and this represents a 39% increase over last month in which miners made roughly $113 million in fees.
During the same period, Bitcoin miner revenue from fees not only paled in comparison but actually decreased. BTC miners made $26 million in September, a 50% decrease compared to the $39 million earned in August. According to data from crypto mining pool F2Pool, it is now three times more profitable to mine Ether than it is to mine Bitcoin
The steep increase in revenue for Ether miners stems from the activity in the decentralized finance sector which peaked in September and caused transaction fee prices to skyrocket on several occasions.
DeFi is great for farmers and miners
DeFi has not only revealed a powerful use case for Ethereum, but has also created renewed demand for Ether to be used as gas to pay for transactions and smart contracts. All of these factors pushed the price of Ether forward in 2020, allowing it to outperform Bitcoin by a significant margin.
Moreover, a noticeable amount of BTC has flowed into the Ethereum blockchain in the form of WBTC and RenBTC, further increasing activity on Ethereum. To date, nearly $1 billion worth of BTC has been tokenized through Wrapped BTC alone.
As revenue for Ether miners grows, new participants join the network in order to reap the benefits. The network's hashrate has also been increasing steadily, breaking its last all-time high on Oct. 7, another fundamental bullish sign for Ether as it shows more participants are invested in the network.
Recent data also shows that new users have been flocking to Ethereum. MetaMask, a popular Ethereum browser wallet used widely in DeFi reached a whopping 1 million monthly users this month as the number of addresses holding ETH continues to increase, but can Ethereum handle the extra load being placed on the network?
DeFi will make or break Ethereum
DeFi is creating traction for Ethereum and has helped bring a significant number of miners back to the network, but it's also worth noting that fees reached unsustainable levels due to network congestion.
Since users are competing for their transactions to be processed, higher fees must be paid. On Sept. 2, a standard transaction on Ethereum cost $15 on average, according to data from Blockchair.
While this is good for miners in the short-term, it may put casual users off using DeFi altogether as smart contracts become too expensive to use. In fact, this very issue may be one of the main reasons for the sharp correction seen in DeFi token prices over the last month.
While second layer solutions have been gaining traction, most people simply do not use them. Other more permanent solutions like the upcoming Ethereum 2.0. also seem far from being ready which may lead competitors like Binance's smart chain taking a piece of the action or even overtaking Ethereum completely.
There are also analysts who believe that the DeFi "craze" may have come to an end as it's popularity has dwindled and regulatory intervention becomes imminent.
Nevertheless, it is imperative that Ethereum solves its scalability issue quickly if it is to contend with DeFi and the possible growth of new trends like Non-Fungible Tokens.
Ethereum's Ongoing Breakout Suggests a Move to $500 Is Possible
The price of Ethereum currently trades for $420.
This price is $100 higher than the September lows and around 15% higher than the coin was trading last week.
ETH is expected to push higher in the weeks ahead as it surmounts pivotal technical levels on a short-term basis.
Analysts are eyeing a move to $500 as $420 holds as support.
Ethereum Expected to Move Towards $500 as Key Levels Are Passed
Ethereum has undergone a strong rally over the past few days as Bitcoin has gained steam. The price of ETH currently trades for $420, $100 higher than the September lows and around 15% higher than the coin was trading at last week.
ETH is expected to push higher in the weeks ahead as it surmounts pivotal technical levels on a short-term basis.
One crypto-asset trader shared the chart below on October 22nd. It shows that because ETH is moving past the "major resistance" of $420, it could be cleared for a move to $500.
Chart of ETH's price action since the start of July with analysis by crypto trader Cactus (@TheCryptoCactus on Twitter).
Source: ETHUSD from TradingView.com
The expectations of a move to retest the year-to-date highs near $490 have been echoed by other market participants.
Jonny Moe, a crypto swing trader, shared the chart below after the move higher. Like the aforementioned chart, it shows that ETH's recent move to the upside is technically important due to the resistance levels the coin is crossing
"Nice break above the $395 flat top on $ETH. ETH doesn't always give throwbacks, so a $395 throwback is certainly possible before higher, but I wouldn't be on it. Otherwise, this looks good for a run back near the $490 highs."

ETH2 Around the Corner
Ethereum's strong price performance comes as the ETH2 upgrade, also known as Serenity, has drawn closer.
In a blog post, ConsenSys developer Ben Edgington said that the ETH2 Deposit Contract is expected to be published this week. The publishing of this contract will confirm that the Beacon Chain Genesis, which will launch ETH2 officially, will launch in the next few days.
"Basically, as I understand it, we are good to go: deposit contract in the next few days; beacon chain genesis 6-8 weeks later. (This is not an official statement!). Meanwhile, be careful out there. Many fake deposit contracts and Launchpad front-ends will erupt in the coming days. Look out for the official anouncements: do not send Eth to random contracts; this is not DeFi."
This upgrade is expected to boost Ethereum's value proposition as it will give the coin the ability to be staked, restricting supply. On a long-term basis, ETH2 is expected to result in long-term bull trend as the upgrade increases the network's usability.
Featured Image from Shutterstock
Price tags: ethusd, ethbtc, ethusdt
Charts from TradingView.com
Ethereum's Ongoing Breakout Suggests a Move to $500 Is Possible
Chainlink brings Verifiable Randomness to Ethereum mainnet, keeps other chains in sight
Chainlink's verifiable randomness function, or VRF, has made its way to the Ethereum (ETH) main net. VRF will provide a decentralized source of randomness for the project's decentralized ecosystem. 
A trusted source of randomness is essential for many applications, such as those in the gambling and gaming industries. Chainlink's co-founder Sergey Nazarov told Cointelegraph that many blockchains  beyond Ethereum, such as the gaming-focused Matic Network, are interested in deploying the project's VRF:
"I know that we have anywhere between 10 and 20 users announced as already using it from the time it was in testnet only. And I know a number of people have already used it for one or two things on mainnet. And I also know that a number of the chains that we're integrating into, interestingly enough, whether they're gaming-focused or not, already have people lined up to use it when we've finalized our integration to that chain."
As with the function's testnet deployment, the first use-case of VRF on the Ethereum mainnet is a gamified application that incentivizes users to save money called PoolTogether. Its co-founder, Leighton Cusack, shared his thoughts on the importance of having a trusted source of randomness:
"The V3 PoolTogether Protocol creates a true "money lego" for no loss prize games. An essential component of this is generating randomness. Using Chainlink VRF lets us move away from a less secure and centralized system to a decentralized one."
VRF is a computationally intensive application which is more costly in terms of Ethereum fees than regular Chainlink oracles. According to Nazarov, the team has been working on VRF for a couple of years. He noted that a lot has changed in the Ethereum landscape during that interim:
"But then the gas price dynamics were very different and there were a lot more games on Ethereum. So interestingly enough, I think what's going to happen with Chainlink VRF, it's now going to successfully launch with a number of users on Ethereum mainnet. But those are the users that are still on Ethereum for gaming. And many users for gaming have now started to move to other more gaming-specific, which is then also where we'll have Chainlink VRF soon as well."
Integration with other EVM-compatible blockchains is relatively straightforward for Chainlink's VRF, said Nazarov. He believes that, though the initial adoption of this technology will come from the blockchain space, sooner or later it will bridge into other industries. At the moment, many of these already employ their own reliable methods of generating randomness, and are not especially eager to go through the hurdles of adopting a decentralized alternative. Nazarov supposed that a major scandal could change all of this:
"Once in a while in the gaming industry, you see these kind of flashes of concern from users, you see some gaming sites somewhere frontrunning users from inside the gaming site, or you see a scandal with some gambling thing that's regulated but some employee still was playing the game and they still were able to win against other players. And I think whenever those happen, those bigger firms do start to seek additional solutions."
On-Chain Ethereum Trends Favor Bulls Despite 5% Drop From Local Highs
Santiment, a blockchain analytics firm, recently shared that Ethereum's NVT is still "bullish"
The NVT is the network value to transaction ratio, which is seen as a price-to-earnings ratio for blockchain networks.
Data also shows that investors are accumulating ETH en-masse, with coins leaving exchanges at a rapid clip.
Ethereum On-Chain Trends Still Favoring Bulls
Ethereum has undergone a strong drop from its weekly highs around $385. The coin fell under $370 on Tuesday morning as capital flooded from the altcoin market back towards Bitcoin, which has underperformed altcoins over the past six months.
Despite the local, short-term drop, analysts remain bullish on ETH.
One key reason why this is the case is that Ethereum's on-chain trends are still bullish.
Santiment, a blockchain analytics firm, recently shared the chart seen below. it shows ETH's price action relative to the network value to transactions metric, which is seen as a price-to-earnings ratio for blockchain networks.
On the current state of the ratio, Santiment wrote that Ethereum is still "bullish" but the trend is moving into "neutral territory."
Chart of ETH's price action over the past few years with an overlay of the NVT model.
Chart from Santiment, a blockchain analytics firm.
This post comes shortly after the firm noted that a spirit of accumulation has appeared amongst Ethereum holders and investors. Santiment recently reported that the number of ETH held on exchanges has dropped rather dramatically in the past two months, suggesting accumulation:
"$ETH's top 10 whale exchange addresses have continued swapping their funds to non-exchange wallets, & moving holdings at an impressive rate. The 20.5% decrease in tokens on exchanges the past 2 months indicates price confidence by top #Ethereum holders."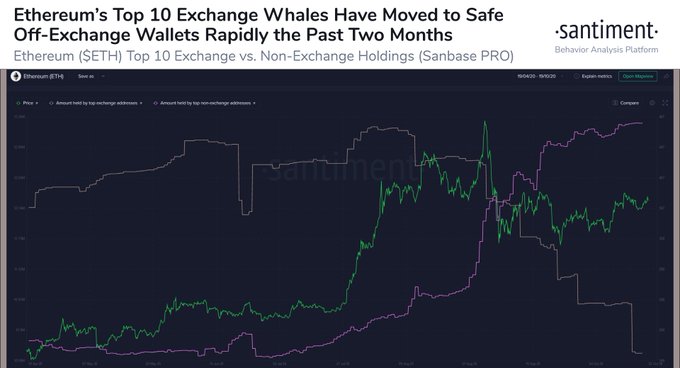 Chart of ETH's price action over the past few months with an overlay of the number of top 10 exchange holdings vs. non-exchange holdings.
Chart from Santiment, a blockchain analytics firm.
Not Everyone Is Convinced of Altcoins
Not all investors and analysts in the space are convinced of altcoins such as Ethereum in the current phase of the Bitcoin market cycle, though.
Kyle Davies, a co-founder of crypto fund Three Arrows Capital, recently suggested that Bitcoin is likely to dramatically outpace altcoins. This came shortly after his business partner Su Zhu made a similar comment, suggesting that this is a time for BTC to rally while altcoins sink.
"You're about to find out why all of the rich OG's hold mostly $BTC."
You're about to find out why all of the rich OG's hold mostly $BTC

— Kyle Davies (@kyled116) October 19, 2020
Just today, BTC rallied 2% as Ethereum sunk 2%.
Featured Image from Shutterstock
Price tags: ethusd, ethbtc
Charts from TradingView.com
On-Chain Ethereum Trends Favor Bulls Despite 5% Drop From Local Highs