It's "Hard to be Bearish" on Ethereum as Key Supports Hold: Analyst
Ethereum has dropped lower over the past 24 hours after peaking just shy of $400.
The cryptocurrency currently trades at $382 and is down a mere 0.5% in the past 24 hours.
Despite the drop from the local highs, analysts remain bullish on the asset.
One analyst says that he finds it hard "not to be bullish" as $360-370 holds.
$360-370 has acted as an important horizontal level for the coin over recent weeks.
Namely, it marked the highs of two key rallies in late September, which resulted in reversals towards $330.
Ethereum Set to Continue Higher, Analysts Say
Ethereum has slipped lower over the past few hours from its local highs around $395. The coin currently trades for $382, not too far from those highs but still down by a few percent.
Despite this rejection just shy of the pivotal $400 resistance, analysts remain optimistic. One crypto-asset trader recently noted that with the cryptocurrency holding above critical supports, price action is healthy
"Think the market is looking to make a full recovery if price get flip $380 into support but that said current price action is looking very bullish and its great to have flipped $360. The chance of retesting $280 gets less and less each day we hold above these levels… $ETH / USD Still finding it hard not to be bullish… Price would have to break below $360 for any real shift in momentum to the downside, healthy looking PA."
Chart of ETH's price action over the past few weeks (since end of July) with analysis by crypto trader Cactus (@TheCryptoCactus on Twitter)
Source: ETHUSD from TradingView.com
Others are also optimistic about Ethereum on a macro basis.
One trader noted that as long as Ethereum holds the prices in the vicinity of $350, it is set to double towards $720 in the coming months. $350 has long been an important level for ETH, having acted as a launchpad for the coin in 2017 and in the middle of 2018 during a dead cat bounce.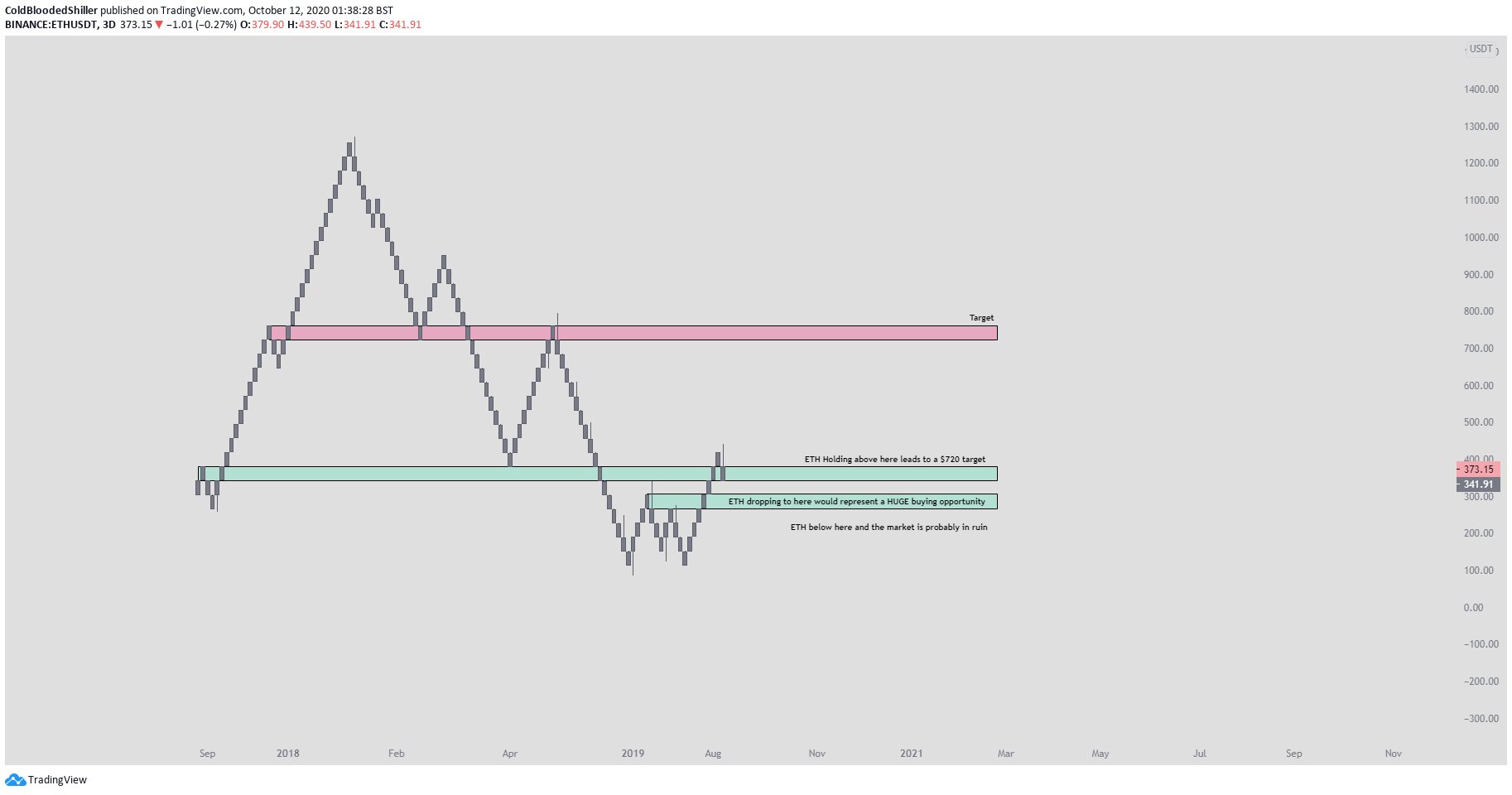 Chart of ETH's price action over the past few years with a Renko candle analysis by crypto trader Cold Blooded Shiller (ColdBloodShill on Twitter).
Source: ETHUSD from TradingView.com
All Eyes on Bitcoin
Supporting upside in the price of Ethereum is an optimistic outlook for Bitcoin.
Tyler Winklevoss, a co-founder of Gemini, recently said that with the U.S. government pursuing another stimulus package, Bitcoin is making increasing sense: 
"Stonks love nothing more than wen the money printer goes brrrr like an A-10 warthog. It's full-fledged addiction that's not going to end until it has to. When that will happen is hard to predict, but what's certain is that #Bitcoin will b your only refuge."
Analysts expect further stimulus to suppress the U.S. dollar, which should boost alternative assets like gold and Bitcoin.
Featured Image from Shutterstock
Price tags: ethusd, ethbtc
Charts from TradingView.com
It's "Hard to be Bearish" on Ethereum as Key Supports Hold: Analyst
Ethereum 2.0 deposit contract to launch this week: ConsenSys dev
ConsenSys developer Ben Edgington has published an update that predicts the ETH 2.0 beacon chain genesis will happen within the next six to eight weeks.
In a post announcing the launch of 'V1.0.0 release candidate 0', Edgington revealed the protocol's deposit contract address feature should be announced this week. The deposit contract allows ETH to be sent between Ethereum and ETH 2.0, and is one of the few remaining updates needed to facilitate the roll-out of ETH 2.0 phase 0:
"As I understand it, we are good to go: deposit contract in the next few days; beacon chain genesis 6-8 weeks later."
However, the PegaSys engineering group developer emphasized his prediction "is not an official statement."
To complete phase 0's launch, 500,000 Ether will need to be locked for staking after the beacon chain goes live, followed by a week-long genesis delay to give the network time to prepare.
According to Edgington, the new release also strengthens Ethereum against denial-of-service attacks, implements the genesis delay and a temporary quadrupling of penalty fees.
Penalties were increased in response to the "slightly bumpy" genesis "dress rehearsal" on the Spadina test network at the end of September, and what is now "very low participation" on the Medalla testnet.
The developer described the fee hike as "a temporary measure to give stakers more confidence in case we hit trouble." Despite low testnet participation, Edgington firmly believes the network is ready to transition into phase 0:
"I think people are getting a bit bored of testnests. It's time to move on […] we need to launch Phase 0 asap."
Edgington's post comes after a successful trial on the Zinken testnet last week, which Set Protocol's Anthony Sassano described as the "second last dress rehearsal testnet before we finally set an ETH 2 phase 0 mainnet launch date."
3 Trends Show Ethereum Is On Track For Strong Growth in 2021
Ethereum has undergone a strong drop from its year-to-date highs at $490.
The coin currently trades for $375, around 25% below those highs.
At the worst of the correction last month, the coin was down even further.
Ethereum remains bullish on a long-term basis as long-term trends favor bulls, analysts say.
One trader recently shared a chart indicating that both the technicals and fundamentals favor bulls.
Three Ethereum Trends Suggest the Coin Is Primed to See Rapid Growth
Ethereum remains in a bullish state from a macro perspective after a strong 25% correction from the year-to-date highs, analysts say.
One analyst, the head of technical analysis at Blockfyre, recently shared the chart below. It shows that the cryptocurrency has recently formed two bullish macro technical signs: ETH has broken out of a 715-day range while it is forming a series of higher highs and higher lows, suggesting the formation of an uptrend.
Not to mention, Ethereum's 2.0 upgrade is slated to begin in the near future with the rolling out of phase zero. This may drive capital into ETH as investors seek to capture the yield offered in the coin.
"$ETH Notes on Chart: 2.0 Coming, HH + HL on top of 715 day range, break PoB to ATH's. You're bearish? Buy + Hold + Wealth Drop the LTF bias." 
Chart of ETH's price action over the past three years with analysis by crypto trader and head of TA at BLockfyre Pentoshi.
Source: ETHUSD from TradingView.com
Competition Abound?
While Ethereum may be strong in its own right, the coin may face competition from other blockchains that could suppress ETH upside.
According to a Bloomberg article released on Oct. 17, Polkadot is an Ethereum blockchain killer. It is a recently-launched blockchain network that uses a network of sidechains that are customizable by developers to facilitate a much better user experience than its predecessor.
Outlier Ventures reported that the number of Polkadot developments has begun to increase, boding well for the network.
"While developer interest in Bitcoin and Ethereum has declined, the number of monthly active developers building on Polkadot increased by 44% in the 12 months ended in May, the report found."
It is currently unclear how much of an effect a rising Polkadot will have on ETH. But it's worth noting that Ethereum has faced some setbacks over recent months as the cost of transactions has increased rapidly and as the high block times have begun to limit some development.
Photo by Florian Olivo on Unsplash
Price tags: ethusd, ethbtc
Charts from TradingView.com
3 Technical Trends Show Ethereum Is On Track For Strong Growth in 2021
The Crucial Level to Watch as Ethereum Prepares to Shoot Toward $700
Ethereum topped out dramatically in August when it hit $490, then crashed.
The coin currently trades for $370, 25% below those highs.
Analysts think that Ethereum could soon shoot higher as the macro trend remains bullish.
ETH will need to hold a crucial support level in the $300 range, then decisively surmount the year-to-date highs around the high-$400s.
Institutions are getting bullish alongside technical analysts.
Grayscale Investments recently revealed that it has accumulated 2% of all of the cryptocurrency in circulation.
Ethereum Could Shoot Toward $600-700: Here's Why
Analysts think that Ethereum is on track to shoot towards $600-700 in the coming months and years as long as it holds pivotal support in the vicinity of $300.
The head of technical analysis at Blockfyre, a crypto-asset research company, recently said on the matter:
"ETH price discovery. 2021 Glaringly obvious only the patient will win but there's trades to be taken within… $700 likely isn't too far off. Eth 2.0 Phase 0 within a week could be one of many bullish catalysts although I just don't think it looks as bullish as BTC. I refuse to not have it in my portfolio. It is the lifeline of alts, and has massive changes ahead."
Chart of ETH's price action over the past few years with analysis by crypto trader and the had of TA at Blockfyre, Pentoshi.
Source: BTCUSD from TradingView.com
This bullish sentiment has been echoed by other analysts.
One analyst noted that a macro analysis of Ethereum suggests that as long as $350 holds, the coin will double to $700 over time. 
Institutions Accumulate ETH En-Masse
There is an institutional aspect of the ongoing Ethereum market trend, boosting the chance the asset moves to the upside.
Barry Silbert, founder and CEO of leading digital asset investor the Digital Currency Group, recently said that Grayscale Investments owns 2% of all Ethereum now. This means that the firm holds $800 million worth of the coin, or approximately 2.2 million ETH.
Institutions are accumulating Ethereum as the decentralized finance (DeFi) revolution grows. Spencer Noon, head of DTC Capital, says on the matter:
"My read on #DeFi after speaking with instl investors, fund mgrs, OTC desks, and FOs over the last few wks: The herd is coming. They're excited about DeFi but new to it, so they're buying $ETH first."
While everybody has been focused on our bitcoin accumulation, the @Grayscale Ethereum Trust now holds over 2% of all ETH in circulation

— Barry Silbert (@barrysilbert) October 15, 2020
Analysts think that continued institutional investment in ETH will drive prices dramatically higher.
Featured Image from Shutterstock
Price tags: ethusd, ethbtc
Carts from TradingView.com
The Crucial Level to Watch as Ethereum Prepares to Shoot Toward $600