Multiple data points suggest Bitcoin's 2017-style bull run has begun
Last week, Bitcoin (BTC) saw its price rise 6.95%, rising from $10,804 on October 5 to $11,555 by October 12. The surge marked the best performing week for the price of Bitcoin since July and data show a noticeable shift in market sentiment around the digital asset.
According to data from TheTie, an alternative data provider for digital assets, the daily sentiment score for Bitcoin has reached 62.4. The metric measures the tone of conversations in Twitter to derive positive or negative sentiment in the market, and any score above 50 implies that market sentiment is positive.
Bitcoin Price vs. Sentiment. Source: TheTie
Bitcoin and the rest of the crypto industry endured a fair share of negative press at the start of October. The CFTC and DOJ cracked down on BitMEX exchange, charging the company with illegally operating a derivatives exchange on Oct. 1 and the UK's FCA banned retail cryptocurrency derivatives on Oct. 6. 
However, neither of these events produced the negative outcomes many investors expected. Moreover, the negative news was followed by bullish stories like Square allocating 1% of its assets to Bitcoin.
Generally, bullish signs continue to pile up for Bitcoin and as the digital asset rallied to $11,500, the total market capitalization of the entire sector increased by 6% from $339 billion to $359. 
Furthermore, a recent report surveying over 30 panelists, including eToro's cryptocurrency commentator David Derhy, Alpha5 CEO, Vishal Shah, and LMAX Group currency strategist, Joel Kruger, found that Bitcoin is set to hit $14,283 by the end of 2020, according to the panelist average.
Blockchain activity matches sentiment
Numerous on-chain metrics also match the positive sentiment around Bitcoin. While investor activity has been picking up, the price has yet to follow. According to cryptocurrency analyst, Willy Woo, this signals an increase in "investor activity", one that has yet to be accounted for in the price of Bitcoin. Woo said:
"Investor activity" is predicated on on-chain volume. This is because when BTC moves between wallets between two different participants, we assume there was a payment for it off-chain (fiat or alt-coin). It's an imperfect measure but approximates what's going on."
Bitcoin NVT (Transaction volume vs price). Source: Woodbull.com
Not only has activity increased but the number of coins held on exchanges has been on a steady decline, with the changing trend resembling the accumulation period that occurred before the 2017 bull market. 
As both fundamental and technical analysis paint a bullish picture amidst the current political and financial turmoil, a perfect storm seems to be brewing for Bitcoin.
A strong DeFi recovery is underway 
In 2020 DeFi played a key role in revitalizing the excitement surrounding cryptocurrencies and Ether (ETH) price but in the last two months the majority of DeFi tokens lost value. 
Data from DeFi Pulse shows that the total value locked in DeFi is at $10.89 billion. Meanwhile, Uniswap has $2.6 billion in total value locked and the decentralized exchange has continued to see a steady increase in trading volume.
Total Value Locked in DeFi. Source: Digital Assets Data
According to data from Flipside Crypto, around $300 million worth of tokens are being sent to DeFi dapps every day. This is outpacing centralized exchanges which currently see a daily inflow of around $156 million. 
Uniswap alone is currently responsible for 70% of the DeFi inflow, with $211 million going to their liquidity pools every day.
All Ethereum network activity. Source: Flipside Crypto
The growth of DeFi protocols has brought renewed attention to Bitcoin and to date more than $1.1 billion worth of BTC has been tokenized on the Ethereum blockchain through Wrapped BTC alone. 
Flipside Crypto noted that roughly $385 million worth of wBTC and renBTC changed hands in September. 
Significant hurdles lay ahead
While many factors point towards an eventful end of the year for Bitcoin, it's worth noting that significant hurdles are ahead. Historical data shows Bitcoin has sold off at the $12,000 level at least three times this year as miners and whales take profit. With the price again approaching the $12K level, there's the risk of this happening a fourth time.
There is also the looming specter of regulatory crackdowns on the decentralized finance sector. While a blanket ban on DeFi will be difficult to enforce, centralized domains can be seized and project workers can be arrested. 
Such a scenario could have a devastating impact on Bitcoin's current bullish sentiment, but for now, traders are expecting a rebound in DeFi. Such an event is likely to provide the fuel Bitcoin needs to push through the $12K level and achieve a new 2020 high.
On-Chain Ethereum Trends Favor Bulls Despite 5% Drop From Local Highs
Santiment, a blockchain analytics firm, recently shared that Ethereum's NVT is still "bullish"
The NVT is the network value to transaction ratio, which is seen as a price-to-earnings ratio for blockchain networks.
Data also shows that investors are accumulating ETH en-masse, with coins leaving exchanges at a rapid clip.
Ethereum On-Chain Trends Still Favoring Bulls
Ethereum has undergone a strong drop from its weekly highs around $385. The coin fell under $370 on Tuesday morning as capital flooded from the altcoin market back towards Bitcoin, which has underperformed altcoins over the past six months.
Despite the local, short-term drop, analysts remain bullish on ETH.
One key reason why this is the case is that Ethereum's on-chain trends are still bullish.
Santiment, a blockchain analytics firm, recently shared the chart seen below. it shows ETH's price action relative to the network value to transactions metric, which is seen as a price-to-earnings ratio for blockchain networks.
On the current state of the ratio, Santiment wrote that Ethereum is still "bullish" but the trend is moving into "neutral territory."
Chart of ETH's price action over the past few years with an overlay of the NVT model.
Chart from Santiment, a blockchain analytics firm.
This post comes shortly after the firm noted that a spirit of accumulation has appeared amongst Ethereum holders and investors. Santiment recently reported that the number of ETH held on exchanges has dropped rather dramatically in the past two months, suggesting accumulation:
"$ETH's top 10 whale exchange addresses have continued swapping their funds to non-exchange wallets, & moving holdings at an impressive rate. The 20.5% decrease in tokens on exchanges the past 2 months indicates price confidence by top #Ethereum holders."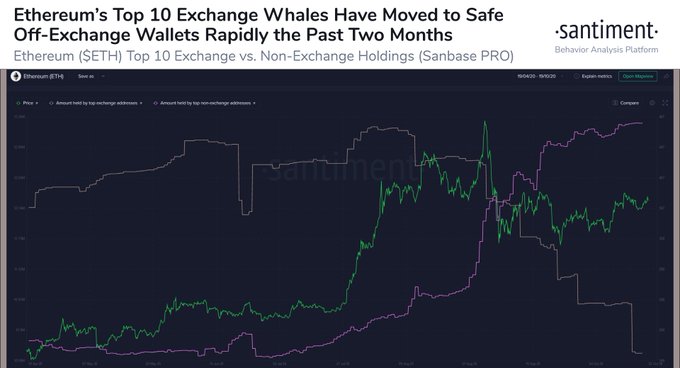 Chart of ETH's price action over the past few months with an overlay of the number of top 10 exchange holdings vs. non-exchange holdings.
Chart from Santiment, a blockchain analytics firm.
Not Everyone Is Convinced of Altcoins
Not all investors and analysts in the space are convinced of altcoins such as Ethereum in the current phase of the Bitcoin market cycle, though.
Kyle Davies, a co-founder of crypto fund Three Arrows Capital, recently suggested that Bitcoin is likely to dramatically outpace altcoins. This came shortly after his business partner Su Zhu made a similar comment, suggesting that this is a time for BTC to rally while altcoins sink.
"You're about to find out why all of the rich OG's hold mostly $BTC."
You're about to find out why all of the rich OG's hold mostly $BTC

— Kyle Davies (@kyled116) October 19, 2020
Just today, BTC rallied 2% as Ethereum sunk 2%.
Featured Image from Shutterstock
Price tags: ethusd, ethbtc
Charts from TradingView.com
On-Chain Ethereum Trends Favor Bulls Despite 5% Drop From Local Highs
Ethereum 2.0 deposit contract to launch this week: ConsenSys dev
ConsenSys developer Ben Edgington has published an update that predicts the ETH 2.0 beacon chain genesis will happen within the next six to eight weeks.
In a post announcing the launch of 'V1.0.0 release candidate 0', Edgington revealed the protocol's deposit contract address feature should be announced this week. The deposit contract allows ETH to be sent between Ethereum and ETH 2.0, and is one of the few remaining updates needed to facilitate the roll-out of ETH 2.0 phase 0:
"As I understand it, we are good to go: deposit contract in the next few days; beacon chain genesis 6-8 weeks later."
However, the PegaSys engineering group developer emphasized his prediction "is not an official statement."
To complete phase 0's launch, 500,000 Ether will need to be locked for staking after the beacon chain goes live, followed by a week-long genesis delay to give the network time to prepare.
According to Edgington, the new release also strengthens Ethereum against denial-of-service attacks, implements the genesis delay and a temporary quadrupling of penalty fees.
Penalties were increased in response to the "slightly bumpy" genesis "dress rehearsal" on the Spadina test network at the end of September, and what is now "very low participation" on the Medalla testnet.
The developer described the fee hike as "a temporary measure to give stakers more confidence in case we hit trouble." Despite low testnet participation, Edgington firmly believes the network is ready to transition into phase 0:
"I think people are getting a bit bored of testnests. It's time to move on […] we need to launch Phase 0 asap."
Edgington's post comes after a successful trial on the Zinken testnet last week, which Set Protocol's Anthony Sassano described as the "second last dress rehearsal testnet before we finally set an ETH 2 phase 0 mainnet launch date."
3 Trends Show Ethereum Is On Track For Strong Growth in 2021
Ethereum has undergone a strong drop from its year-to-date highs at $490.
The coin currently trades for $375, around 25% below those highs.
At the worst of the correction last month, the coin was down even further.
Ethereum remains bullish on a long-term basis as long-term trends favor bulls, analysts say.
One trader recently shared a chart indicating that both the technicals and fundamentals favor bulls.
Three Ethereum Trends Suggest the Coin Is Primed to See Rapid Growth
Ethereum remains in a bullish state from a macro perspective after a strong 25% correction from the year-to-date highs, analysts say.
One analyst, the head of technical analysis at Blockfyre, recently shared the chart below. It shows that the cryptocurrency has recently formed two bullish macro technical signs: ETH has broken out of a 715-day range while it is forming a series of higher highs and higher lows, suggesting the formation of an uptrend.
Not to mention, Ethereum's 2.0 upgrade is slated to begin in the near future with the rolling out of phase zero. This may drive capital into ETH as investors seek to capture the yield offered in the coin.
"$ETH Notes on Chart: 2.0 Coming, HH + HL on top of 715 day range, break PoB to ATH's. You're bearish? Buy + Hold + Wealth Drop the LTF bias." 
Chart of ETH's price action over the past three years with analysis by crypto trader and head of TA at BLockfyre Pentoshi.
Source: ETHUSD from TradingView.com
Competition Abound?
While Ethereum may be strong in its own right, the coin may face competition from other blockchains that could suppress ETH upside.
According to a Bloomberg article released on Oct. 17, Polkadot is an Ethereum blockchain killer. It is a recently-launched blockchain network that uses a network of sidechains that are customizable by developers to facilitate a much better user experience than its predecessor.
Outlier Ventures reported that the number of Polkadot developments has begun to increase, boding well for the network.
"While developer interest in Bitcoin and Ethereum has declined, the number of monthly active developers building on Polkadot increased by 44% in the 12 months ended in May, the report found."
It is currently unclear how much of an effect a rising Polkadot will have on ETH. But it's worth noting that Ethereum has faced some setbacks over recent months as the cost of transactions has increased rapidly and as the high block times have begun to limit some development.
Photo by Florian Olivo on Unsplash
Price tags: ethusd, ethbtc
Charts from TradingView.com
3 Technical Trends Show Ethereum Is On Track For Strong Growth in 2021