Traders Eye Continuation For Ethereum Toward $900 After ETH2 Launch
Nick Chong

Ethereum is expected to shoot higher in the weeks ahead despite the recent price consolidation.
The cryptocurrency has held well in the high-$500s despite some downward pressure in the Bitcoin price.
Analysts think that ETH could push toward $900 and beyond in the near future, especially due to the positive fundamental event of the ETH2 launch.
Boosting Ethereum's prospects, analysts are also bullish on Bitcoin.
Ethereum Could Shoot Even Higher, Leading Analysts Say
Ethereum is expected to shoot higher in the weeks ahead despite the recent price consolidation. The coin has maintained the high-$500s, holding below its year-to-date highs of $620.
One leading crypto-asset analyst thinks that this may be a precursor to a strong upward breakout. He recently shared the chart below, which shows that Ethereum is consolidating above a key support level on its macro chart. This consolidation could be a precursor to a breakout toward $900, the analyst believes.
Boosting Ethereum's prospects, analysts are also bullish on Bitcoin. BTC is expected to push higher as institutional players continue to embrace this space. This buying pressure from Wall Street will drive Bitcoin toward $100,000, say some investors, such as the CIO of Off the Chain Capital and Preston Pysh, a financial analyst.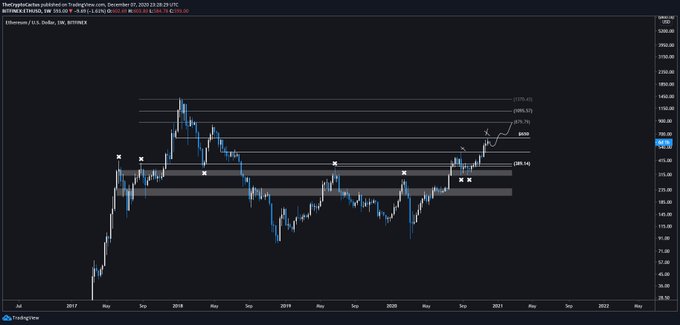 Chart of ETH's price action over the past few years with an analysis by crypto trader Cactus (TheCryptoCactus on Twitter).
Source: ETHUSD from TradingView.com
Fundamentals Bullish
The expectations of a strong Ethereum rally come as the ETH2 upgrade has finally been rolled out. The first phase of the upgrade launched on December 1st, giving users the ability to stake their coins in exchange for rewards should they maintain their nodes correctly.
Analysts think that this upgrade will result in a decrease in the issuance of Ethereum. This should help to increase prices in the long run, assuming that demand is consistent or grows to meet this shrinking demand.
As Messari analysts wrote about the potential effects of the upgrade on the Ethereum supply:
"Further reducing the potential issuance of ETH 2.0 until Phase 1.5 are the likely shape of the staking adoption curve, validator performance, and transaction fee burns (EIP 1559). Staking participation will likely start low and increase over time as holders gradually become more comfortable with the Beacon Chain and deposit more ETH into the deposit contract. The result of these three factors is that net issuance from ETH 2.0 could be significantly lower than what's projected on the above chart."
Analysts are also optimistic that ETH2 will mark a decisive upgrade for the usage of the protocol. This improved user experience could also drive further grow in the Ethereum ecosystem over time.
Featured Image from Shutterstock
Price tags: ethusd, ethbtc
Charts from TradingView.com
Macro Analysis Predicts Bitcoin Has Begun Rally Toward $100k
Ethereum's realized cap spikes to record highs as capital floods in: Report
Cointelegraph By Samuel Haig

Ethereum's realized capitalization has increased by nearly 50% in January so far to tag new all-time highs above $70 billion, according to CoinMetrics.
The data shows that Ethereum's realized cap has more than tripled since dropping below $25 billion in during March 2020's "Black Thursday" crash..
The realized capitalization metric calculates the value of a crypto asset's supply according to when each unit last moved on-chain. The indicator seeks to estimate the price actually paid for each ETH in circulation — rather than simply multiply the current price by the total supply as market cap does. However, realized cap cannot account for coins that are only traded on centralized exchanges and do not move on-chain.
The indicator is designed to offer a way to compensate for lost or unclaimed coins by ignoring their appreciation from the time each unit was last transferred on-chain.
By ignoring the fluctuating capitalization of dormant coins, realized cap offers a signal for when new capital is flowing into a given market, with CoinMetrics inferring that many new investors may have been buying the bags of seasoned ETH whales during January's bull market.
The report also noted a 5% spike in the number of Ethereum addresses holding more than 10,000 Ether, with 1,241 wallets currently holding $13.8 million or more in ETH. As such, CoinMetrics concludes that "institutional investors are starting to buy ETH."
The growth of Ethereum's realized cap appears to have outperformed that of Bitcoin's last year, with Glassnode reporting that BTC's realized cap had grown 50% since the beginning of 2020 as of Dec. 15. CoinMetrics' data indicates Ethereum had seen an 85% increase over the same period.
Blockchain Center's Flippening Index currently estimates that Ethereum is 71% of the way to surpassing Bitcoin according to eight key metrics — comprising a new all-time high for the indicator.
The index notes Ethereum has already surpassed Bitcoin by transaction fees and transaction count, and estimates that transaction volume and node count are at 99% and 97% of Bitcoin's respectively.
3 reasons why Ethereum price is still on track to top $2,000
Cointelegraph By Marcel Pechman

After dropping 27% over three days, Ether (ETH) price finally reached a bottom at $1,040 on Jan. 22. 
The sharp correction liquidated $600 billion worth of future contracts but interestingly, Ether price rebounded to a new all-time high even as Bitcoin price continues to trade in a slight downtrend.
According to Cointelegraph, the increasing TVL and transaction volumes of the decentralized finance sector are behind Ether's impressive surge.
To determine whether the recent pump reflects a potential local top, we'll take a closer look at on-chain flows and derivatives data.
Exchange withdrawals point to whale accumulation
Increasing withdrawals from exchanges can be caused by multiple factors, including staking, yield farming, and buyers sending coins to cold storage. Usually, a steady flow of net deposits indicate a willingness to sell in the short-term. On the other hand, net withdrawals are generally related to periods of whale accumulation.
As the above chart shows, on Jan. 23, centralized exchanges recently reached their lowest Ether reserve levels since November 2018.
Although there is some discussion whether part of this Ether exodus is an internal transfer between Bitfinex cold wallets, there has been a clear net withdrawal trend over the past month. Despite these 'rumors', the data points towards accumulation.
This data also coincides with the DeFi's total value locked (TVL) reaching a $26 billion all-time high and signals investors chose to take advantage of the lucrative yield opportunities that exist outside of centralized exchanges.
Futures were overbought
By measuring the expense gap between futures and the regular spot market, a trader can gauge the level of bullishness in the market.
The 3-month futures should usually trade with a 6% to 20% annualized premium (basis) versus regular spot exchanges. Whenever this indicator fades or turns negative, this is an alarming red flag. This situation is known as backwardation and indicates that the market is turning bearish.
On the other hand, a sustainable basis above 20% signals excessive leverage from buyers, creating the potential for massive liquidations and eventual market crashes.
The above chart shows that the premium peaked at 6.5% on Jan. 19, equal to a 38% annualized rate. This level is considered extremely overbought, as traders need an even higher price increase ahead of expiration to profit from it.
Overbought derivatives levels should be considered a yellow flag, although maintaining them for short periods is normal. Traders might momentarily exceed their regular leverage during the rally and later purchase the underlying asset (Ether) to adjust the risk.
One way or another, the market adjusted itself during the Ether price crash, and the futures premium currently stands at a healthy 4.5% level, or 28% annualized.
Spot volume remains strong and traders bought the dip
In addition to monitoring futures contracts, profitable traders also track volume in the spot market. Typically, low volumes indicate a lack of confidence. Therefore significant price increases should be accompanied by robust trading activity.
Over the past week, Ether has averaged $6.1 billion in daily volume, and while this figure is far from the $12.3 billion all-time high seen on Jan. 11, it is still 240% higher than December's. Therefore, the activity supporting the recent $1,477 all-time high is a positive indicator.
Exchange-provided data highlights traders' long-to-short net positioning. By analyzing every client's position on the spot, perpetual and futures contracts, one can obtain a clearer view of whether professional traders are leaning bullish or bearish.
With this said, there are occasional discrepancies in the methodologies between different exchanges so viewers should monitor changes instead of absolute figures.
The top traders index at Binance and Huobi have held roughly the same Ether position over the past couple of days. Huobi's average over the past 30 days has averaged a 0.83 long-to-short ratio while at Binance traders held a 0.94 average. The current reading at 0.85 indicates a slight negative sentiment.
OKEx stands out as the top traders long-to-short ratio peaked at 2.0, strongly favoring longs in the early hours of Jan. 22, but it decreased until Jan. 24 and finally bottomed at 1.05. The strong net selling trend was reverted today as traders bought the dip and the indicator flipped to 1.17 in favor of longs.
One should keep in mind that arbitrage desks and market makers encompass a vast portion of the exchanges' top traders metric. The unusually high futures premium would incentivize those clients to create short positions in futures contracts while simultaneously buying Ether spot positions.
Considering Ether's on-chain data indicating whales hoarding, along with the healthy futures contracts premium, the market structure seems reliable.
The fact that top traders at OKEx also bought today's dip is further indication that the rally should see continuation.
The views and opinions expressed here are solely those of the author and do not necessarily reflect the views of Cointelegraph. Every investment and trading move involves risk. You should conduct your own research when making a decision.
Aave hits record $288 high as demand for flash loans and staking increases
Cointelegraph By Jordan Finneseth

Aave (AAVE) price has been on an absolute tear for weeks and today the DeFi-token rallied to a new all-time high at $288.90. 
The decentralized finance protocol is one of the most popular in the market and the recent rally in the DeFi sector is one of the driving forces behind AAVE's rally.
At the start of 2021, AAVE price was trading at $83 and the recent rally appears to have bolstered the protocol's surging total value locked, increasing buy volume on spot and derivatives exchanges and the continued development of Aave's lending platform and flash loan issuance.
TVL soars to a new high
Data from DeFi Pulse shows that Aave's TVL rose from $2.03 billion on Jan. 1 and as (BTC) and Ether (ETH) price went parabolic Aave's TVL also surged.
Currently, Aave's TVL sits at a new all-time high of $3.75 billion, making the platform the second-largest DeFi platform by TVL behind Maker (MKR).
The steady addition of new tokens to the lending and borrowing protocol increases the likelihood that its TVL will continue to rise and help AAVE retain its standing as one of the top DeFi projects in the cryptocurrency space.
Staking drives demand for AAVE token
AAVE's trading volume also surged at the beginning of 2021, increasing from $200 million on Jan. 3 to a high of $928 million on Jan. 16.
As AAVE price reached a new high, it's 24-hour trading volume notched a record $1.06 billion. This volume surge is partially driven by investors acquiring more tokens for staking, with 26.8% of the total supply of AAVE currently staked on the platform earning an APY of 6.1%
Flash loans attract investors
Another reason for AAVE's recent surge is the growth of its flash loans.
Flash loans allow cryptocurrency holders to collatoralize their portfolio to fund other purchases or new crypto purchases. The loans also help investors utilize the value in their tokens without the need to sell see them and create a taxable event.
Since launching flash loans less than 12 months ago, more than $1.7 billion have been issued and it's expected that this figure will increse as the crypto bull market progresses.
As can be seen in the chart above, the most dominant token requested for flash loans is the DAI stablecoin, followed by USDC and ETH. Data from Messari shows that Aave issued $25 million in loans in the first half of 2020, $500 million in Q3, and nearly $1 billion in Q4, including $450 million in December.
The expansion of the flash loan concept will likely attract more users to Aave, especially since they can be used for arbitrage opportunities between DEXs, collateral swaps, self-liquidations and a variety of other applications within the DeFi sector.